Maybe a more interesting stat: who's dropping more names, and who is playing the idn drop catching game.
Seems like Dynadot and Xin account for half of all idns that drop.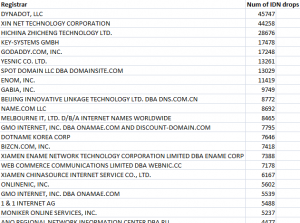 While being the main source of idns drops, Dynadot is also where they are finding a new home from the first second. Here are the stats for idn domains catched on the drop. (Please note that these are not for idns that are registered again, but only for idns that get catched on the drop)
A more useful stats, are the drop windows. Did you know that each registrar drops a domain at a known and very accurate time interval? Knowing these intervals is very useful when allocating your resources for the drop catching game. There's no point on having a drop catching app or script running after a domain on a registrar that never drops the name before or after a certain hour. Dotster, Inc for instance, never drops an idn before 11:30 GMT.